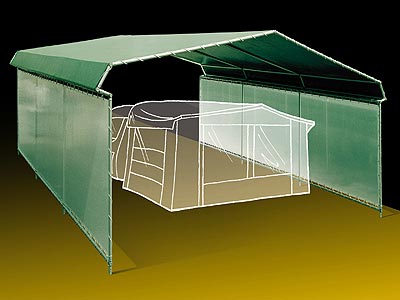 Data
Sheet
CARAVAGGIO
The canopy model CARAVAGGIO has a winning "home-style" design and the peculiarity to be equipped with lateral transparent tarpaulins which may be removed according to the climate or use needs. It is suitable for summer camping as well as convivial meetings as it protects from sun rays during the warmest hours of the day and offers a very good shelter in case of bad weather. The upper polyethylene tarpaulin is available in different colours, non-toxic, UV-resistant and water repellent but transpiring. It allows campers to enjoy their caravans and verandahs even in the warmest hours of the day or in case of bad weather (certified self-extinguishing or PVC tarpaulin on demand).
Increasing the sizes of the upper tarpaulin it is possible to obtain a lateral protection having various heights. The die-cast aluminium connecting joints, which are reinforced with an internal steel core, make the frame very strong and resistant to the wind or other stresses. To keep the frame installed also in winter time tarpaulins need to be removed because the light inclination of the canopy would not allow snow fall. The installation of the frame is made through ropes fixed to the floor through zinccoated anchors which are "screwed" into the soil (soil may be of any kind with exception of made ground), while the upper tarpaulin is fixed to tubes thanks to an elastic cable passed through the eyelets which are put at the tarpaulin edge and are 30 cm. of distance one from the other.
This system makes installation simple, immediate and with no need to carry out building works, and gives to the canopy a removable feature. All necessary components to install the canopy as well as clear and detailed assembly instructions are included in the supply.